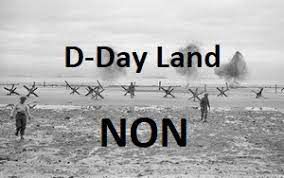 Bonjour à tous
Nous ne vous avons pas donné de nouvelles du projet D-day land depuis plusieurs semaines ; malgré nos demandes, nous n'avons tout simplement aucune information concrète de la part des promoteurs et de la mairie de Carentan qui ont choisi la stratégie du secret.
Bien au-delà de leurs contradictions, la guerre en Ukraine et la crise alimentaire qu'elle va engendrer soulignent toute l'indécence de ce projet. C'est ce que nous dénonçons dans notre dernier communiqué, repris ce jour par La Presse de la Manche (ci-joint).

Hello Everyone

We haven't given you any news from the D-day land project for several weeks; despite our requests, we simply have no concrete information from the promoters and the town hall of Carentan who chosed the strategy of secrecy.

Far beyond their contradictions, the war in Ukraine and the food crisis it will cause underline the indecency of this project. This is what we denounce in our latest press release, published today by La Presse de la Manche.

Best regards



Bertrand

 Legendre 

PRESS RELEASE




D-dayland: like "a cat in a bag »*?

(

the Norman expression: "On n'achète pas un chat dans une pouque" means that we don't commit without knowing exactly what we are being offered)

The promoters of the D-day land project as well as the town hall of Carentan are showing great consistency by not disseminating any information on the progress of this project.

 In doing so, they lead us to note some contradictions: last January, in his vows, Hervé Morin (president of Normandy Region) said: "The project is progressing well. The fundraising was a success, the banks are following. The scriptwriters came to Normandy this summer. " Well! 

A few days later, on February 20, the mayor of Carentan seemed to ignore everything about the substance of the project, declaring: "That one criticize a project when we know it, I don't mind, but there, we don't know anything"

Really?

It is hard to believe that the town hall is blindly getting involved in this affair because, as Claude Quétel, historian and former scientific director of the Mémorial de Caen, and a support of the project, recently recalled, "We don't buy a cat in a bag".



Saying that one have to wait to know everything about the project before criticizing 

it is obviously a good tactic: this would allow, when the time comes, to pretend to listen to some criticisms, or even to make small marginal modifications to it without calling into question its very existence. It will of course be too late to turn back, but we can be sure that all the sets will look larger than life. 

The problem is not there. 

It is due to the fact that this so-called "Hommage aux héros" rings false and bears an indelible original stain: for Hervé Morin, the stake is to "hold tourists a little longer", and for Régis Lefebvre, one of the three bearers of the project, you have to create a "wow effect". In summary, what is at the basis of this project is purely and simply the lure of profit, and to satisfy it, a sensationalist conception of History of the Landings in total disregard of the memory of the victims that they claim to honor.

 

For three weeks, the war has been wreaking havoc on the borders of the European Union. Ukraine, a country among the world's leading exporters of wheat, maize, rye, barley, sunflower, potatoes and cheese, is already completely unable to cultivate its land: there will be no harvest in 2022, without prejudging the years to come. The first signs of a global food crisis are already visible and French agriculture will have to mobilize all its resources.



In this context which will most certainly last very long , do you really dare to sacrifice around thirty hectares for this unsane proposal of "thrills"?
The opposition committees in the D-day land of Sainte-Marie-du-Mont,Ver-sur-Mer and Bayeux
Pour être informé des derniers articles, inscrivez vous :